This day was a long time coming. 
The day I would

finally

be moved from "Bloggers I don't actually Know But still Love" to "Bloggers I Know and Love".
Well, 
she
 just recently changed it to "To Know Them Is to Love Them", but you get the point. 
Today, Loriloo finally introduced me to the charming&sweet Talia! She is just as beautiful and delightful in person, if not even more so.
Wearing my new secret seamless maternity jeans. They were everything I hoped for and more.
We chatted about babies and kids and church and other stuff. I feel like I've already known Talia forever. She is so fun and easy to talk to.
On the way to meet her 
at the park, I was telling my boys we were going to meet some very special girls, that also liked to color all day too. 

How did my boys do with these enchanting ladies?
Let's just say that I caught Emma and Finn having a very serious conversation on the swings. "I didn't know that little kids could wear watches", Emma told Finn. Yah, I think she was totally diggin' his sweet camo watch. 
And I certainly am not trying to swoop in on Emma's prospective suitors, but what can I say? My kid has a cool watch! And I must have Talia as my co-mother-in-law. I must. I must. Anyone who knows her will know exactly what I am talking about. Maybe Talia needs to have a few more daughters to marry off!
Introducing my first ever pre-engagement photo session.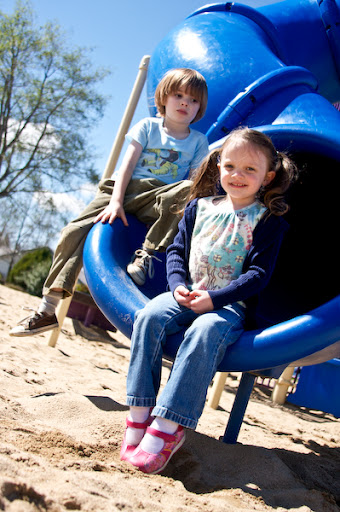 Um, how sweet are they?????? Could Emma's little feet be any cuter???
And from a distance, someone spotted Annabell-vin.
Having some sort of precursory squabble.
But not for long. Oh the face of an angel I tell you!
Thanks girls, for the loveliest day ever.We can't wait to play again. Perhaps next time we can have a coloring fest!