Yesterday I awoke to sea-lions barking, from a condo on beach-front property.
While John was at home wrestling the boys out of bed to make Finn's 8am soccer game, I lay buried beneath a mound of blankets on a king-sized bed.
My cell phone finally brought me to life, at around half past 9. 
It was Finn's faint voice, squeaking "I made 3 goals today".
"WHAT??!!", I shrieked. I could hardly believe it. Finn had never made a goal before. And of course, I had to be away for this momentous occasion. I was so happy for my little squirt. John said Finn had a little confident bounce to his step after that. (

sidenote: John said that 2 of the goals were completely legitimate, but the other one was not, because a whistle blew during a foul of some kind.)
I could just die, over this twerpy love-of-my-life.
Next was brunch, in a quirky shanty, and we had the most delicious hot chocolate.
And then came the shopping. Ring shopping. I lost my wedding ring a while back, while pregnant with one of the boys. My fingers were swelling, so I put my ring in a baggie for safe-keeping.

Bad idea.

I never saw it again. We think we may have accidentally thrown it away.
Yesterday I found "the one" in an antique store. The appraiser was even there that day. It's a 1920's white gold band with a champagne-colored diamond. I can't stop thinking about it.
Unfortunately, you can't see the detail in this picture, but hopefully you get some vague idea.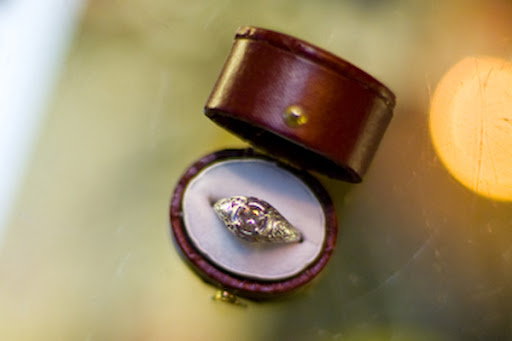 And
s
adly, I don't have enough money for it. Hopefully it will still be there for a whil
e.
We stopped at one last shop on the beach for some loot for my boys. It was my first time away from Ollie, and my first time purchasing souvenirs. Ever. I tucked my treasures away in a plastic bag. I was so excited.
No trip is complete without a photo-shoot or 2.
On our way home, we were ridiculously delayed at Lorie's favorite house. We could hardly tear ourselves away from all this fabulous rubble
.
It was so exciting to come home, knowing I had a surprise for the boys. Ollie hopped right onto my lap...
                                                      ...and yacked ALL over me.
After cleaning up, I wrapped the presents, and brought them to the boys.
A Nemo-fish for Finn.
Finn now insists on wearing his "Nemo shirt" and is currently playing the part as Nemo's daddy, Marlin. I'm not sure which is worse--the soccer jersey or this orange striped shirt. Finn keeps hugging and kissing me saying "I love you so much for getting me Nemo".
A sea-turtle for Calvin.
And a pelican for Ollie.
I think this was my favorite day ever as a mom--sleeping in, eating out, shopping,photog-ing with 2 pros, coming home with Nemo knock-offs, and my kids thinking I'm the greatest thing on earth.